Your Halton and Flamborough area veterinarians
Campbellville Animal Hospital serves the Campbellville, Milton, Flamborough and surrounding areas. Although we are near a number of large city centers, we maintain a hometown country atmosphere while providing state-of-the-art medicine for your pets.
Over 80% of our clients have been referred to us by existing clients.
At Campbellville Animal Hospital we take pride in delivering exceptional, personalized and compassionate care to all our patients. From our friendly reception desk to the skillful veterinary examination, our team will make every effort to provide a comfortable environment for you and your pet. It all starts with a warm welcome as you come through our door.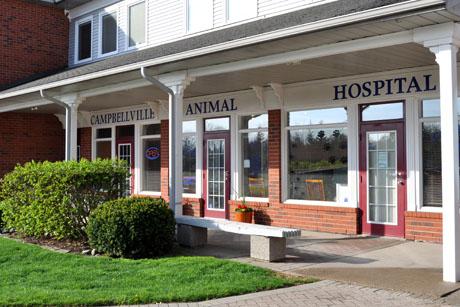 In 2006 we opened our doors at 35 Crawford Crescent in Campbellville, Ontario. Since then we have been providing expert health care for people's pets in the community. Our facility is fully equipped to offer a wide range of medical services and surgeries for dogs, cats and rabbits.
Campbellville is a quaint hamlet in the City of Milton. We are located near Highway 401 and Guelph Line in the Campbellville Plaza between Cristello's Village Market and the Trail Eatery. We have ample space for free parking within a safe, low traffic area for your pet.
Find out more about our team by visiting our Team page. Better yet, give us a call at 905-854-5556 – we'd love to chat!